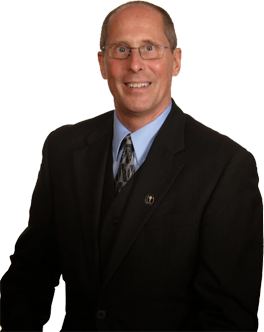 Dr. Jeffrey Ness

Dr. Jeffrey Ness is a second generation chiropractor who was born in Fergus Falls, Minnesota and raised in Wahpeton, North Dakota. His first chiropractic experience was at the age of ten days when his dad gave him a "Logan Basic" adjustment to ease the symptoms of colic. He helped his father in his chiropractic office from a very young age. Always fascinated by his father's ability to "help sick people get well", it was only natural for him to pursue his own career in chiropractic.
In August of 1977 Jeffrey packed up his Mustang II pulling a small trailer filled with all his worldly belongings and moved to St. Louis to attend Logan College of Chiropractic. After spending his first winter in St. Louis, which was NOTHING compared to your typical winter in North Dakota, he was sold on the idea of staying in the St. Louis area. Dr. Ness graduated from Logan College on January 3rd of 1981. After he passed his Illinois and Missouri boards he started his personal chiropractic career by working for another doctor in Bridgeton Missouri. Eagerly awaiting his chance to start his own practice, in the winter and spring of 1983 doctor Ness found and purchased an existing practice in Union and began his private practice on May 11th, 1983. His original office was located in Union's historic "Creamery Building", after eleven years of practice he moved to his current location at 214 South Church Street.
Now celebrating 36 years in Union, Dr. Ness continues to treat the residents of Union City, St. Louis City and the surrounding areas of Franklin, Jefferson, Gasconade and St. Louis Counties. With his unique adjusting skill and style as well as his expertise in acupuncture, he attracts patients from near and far.
PROFESSIONAL TRAINING:
Dr. Ness's primary adjusting technique is the Thompson Technique. He also utilizes Activator methods, Diversified and SOT. He utilizes the latest technological advances in muscle stimulation, ultra sound, and acupuncture, cervical and lumbar traction. This better allows him to treat a variety of different injuries relating to sports, automobile and industrial accidents.
Acupuncture has long been a fascination to Dr. Ness. In 1972 his father was the first licensed chiropractor in the state of North Dakota to also be licensed to treat patients with the newly introduced art of acupuncture. The healing philosophy of chiropractic and acupuncture align in direct parallels so it was only natural that the young doctor Ness pursue his own interest in acupuncture. Dr. Ness attained his National Certification in Acupuncture in 1980 while attending Logan College. It wasn't until 1986 that he was able to incorporate it into his private practice when the State of Missouri officially approved its use.
Dr. Ness most recently completed training in "Chiropractic Rehab" through Logan College's continuing education department. This training emphasizes core stabilization techniques to assist his patients to attain greater stability after sports, automobile or work related injuries. He also includes these teachings in his daily practice encouraging his regular patients to incorporate these exercise patterns in to their daily routine for greater emphasis on "prevention".
One of Dr. Ness's favorite sayings is:
It is easier to STAY WELL than it is to GET WELL!
Consequently, prevention based maintenance treatments are the main foundation to the treatment philosophy at Ness Chiropractic. He still sees patients he started treating in 1983!

SPECIALIZED SKILLS:
Dr. Ness specializes in an adjusting technique called the "Thompson Technique". This technique utilizes a specially designed adjusting table that assists the doctor to quickly and easily adjust his patients' spines as well as their extremities.
Dr. Ness is also trained in the "Activator Methods" of adjusting, "Diversified" and "SOT". Acupuncture is a major adjunctive therapy utilized to assist the chiropractic approach to treating health and wellness as well as for pain management. Dr. Ness has found it to be especially useful for people suffering with fibromyalgia and migraine headaches.
In October of 2018, Dr. Ness added the Erchonia 635 laser to his arsenal of healing aids. This low level laser therapy (LLLT) has enhanced his already successful techniques of healing. This opened up a new level of state of the art therapy modalities to help with those chronic and difficult pain related cases that have plagued our healthcare system for so long. LLLT is another way of treating pain without the use of highly addictive and sometimes deadly opiate based pain medications, often prescribed to our patient's by their medical doctors.
PROFESSIONAL MEMBERSHIP:
As a long standing member of the Missouri State Chiropractors Association (MSCA), Dr. Ness has recently stepped down from his board positions after holding the position of board representative and board secretary for over 15 years. In 2018, the MSCA officially changed its name to the Missouri Chiropractic Physicians Association (MCPA) to better represent the ever expanding scope and identification of our profession. Our primary mission continues to be to assist the chiropractic profession to better serve the citizens of the state of Missouri. This is frequently accomplished through legislation and other legal challenges in an effort to support our patients' insurance rights. Dr. Ness has long found great reward serving both his profession as well as his patients by his MCPA involvement. Feel free to visit the MCPA web site: http://www.mscainfo.com